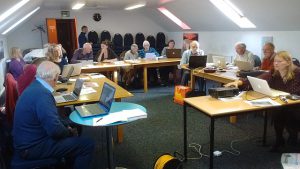 1 January 2026 is a legal cut-off date for adding historic paths to the definitive map – the official record of the public rights of way in an area. We need help from volunteers to ensure that these rights are protected and we have held our first workshop in Norfolk to provide guidance on how to do this.
The need now is for volunteers to review records in a systematic fashion so that we capture every route in Norfolk which is a public right of way but not yet recorded as one (or is recorded for use at lower rights than it should be). The Area has set aside money to hold workshops for anyone (not just in The Ramblers) willing to spend some time on this, to show them just how this can be done. The first of these workshops, led by Helen Chester of the British Horse Society was held on 29 October, when 17 people attended and learned how to undertake this research.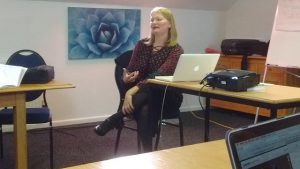 In the space of 3½ hours, Helen gave a detailed authoritative presentation about what evidence was available and how to track it down and present it. At the end of this tour de force, she received a spontaneous round of applause. We're really grateful to everyone who took part, both in attending the event and also those who helped to organise it. This work is really important and although the deadline seems a long way in the future, there is much work that needs to take place now to protect our paths.
If you would like to take part in a future workshop, or just to know more, please contact Ken Hawkins ken-hawkins@tiscali.co.uk or 07505 426750.