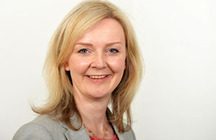 Elizabeth Truss, the Secretary of State for the Environment, Food and Rural Affairs, has confirmed that the coastal path between Hopton on Sea and Sea Palling will be opened up and made available to walkers. The opening is part of plans to establish a national coast path around England.
The path will go through Horsey, Winterton-on-Sea, Hemsby, Caister, Great Yarmouth through to Hopton on Sea. The text of the Secretary of State's report can be found here.
Julian White from Norfolk Area Ramblers said:
"We are delighted with the announcement that a coastal path will be established from Hopton on Sea to Sea Palling. In December 2014 the county's first stretch of the England Coast Path opened from Weybourne to Sea Palling so in future walkers will be able to walk from the Norfolk border at Hopton on Sea through to Hunstanton with the option from there of connecting to the Peddar's Way National Trail.
Along with The Ramblers overall,  we wholly support the establishment of the England Coast Path. We have been closely involved with Natural England in developing the proposals and seek to continue to be involved with the promotion of this new exciting opportunity for walkers."