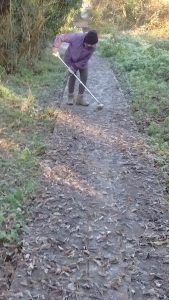 On a fine but frosty day, Peter James was out once again, but this time without path cutting equipment.  Instead, he was geared up with generator, compressor and staple gun to renew 50 metres of decaying wire mesh on the boardwalk at Scarning Fen in Dereham (Footpath 14a).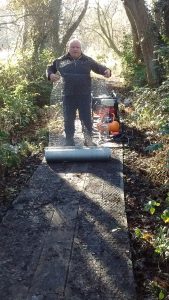 Once the equipment had been carried on site (a small job in itself), Ken and Catherine Hawkins scraped off the old wire netting – and the frozen on leaves – and Peter followed up installing the new wire mesh.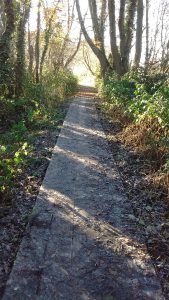 It was gratifying that a number of people using the path stopped by to say 'thank you' for the work being done.  Four hours later, and the mesh was down and ready for use.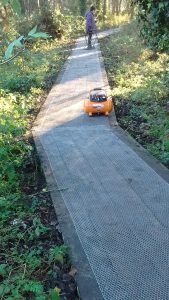 We're always keen to get more volunteers for path clearance work, it's good exercise, great for the local community and also fun! We have lots of equipment available to use, and we're also keen to hear from anyone who has blocked paths near to where they live. Please do contact us (we love hearing from people!), our details are available at http://www.norfolkra.org.uk/.