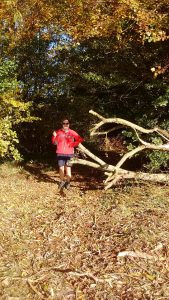 Julian White, from Hike Norfolk, led a walk around Dereham on Sunday which was attended by fifteen walkers. The interesting walk went past Borrow Hall, the former Jolly Farmers pub, Bishop Bonner's Cottage and St. Nicholas Church.
The walk was interesting and varied, but there was a fallen tree near to the Mattishall Road. The tree blocked the footpath, requiring a small jump to get past. In the above photo is Clive Manwaring showing how to do it   🙂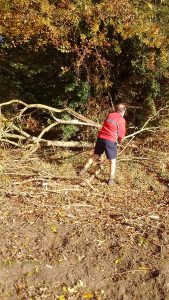 Ken Hawkins, who had initially been behind the creation of the walks, is the Dereham Footpath Warden and Norfolk Ramblers Area Secretary and on hearing about the obstacle he promptly went to ensure that it was removed for anyone else wanting to walk the path. Thanks to Ken for such a fast response!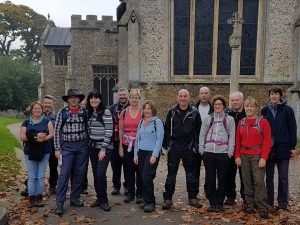 Above is a photo of Hike Norfolk after the walk, which can be found at:
http://derehamtc.norfolkparishes.gov.uk/files/2015/08/Walk-2-Badley-Moor2.pdf