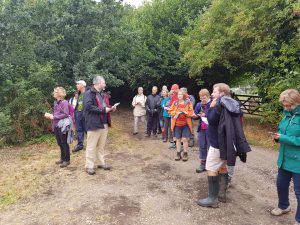 Hike Norfolk, one of our groups in Norfolk Area Ramblers, held a walk leading training day today to help more walkers feel confident in leading walks. The event, attended by 24 people, was held in Dereham and involved some map training, a rather lovely lunch and then a six-mile walk to practice some of the skills discussed earlier in the day.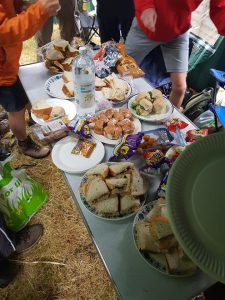 We had a lunch spread after all that listening to Richard made people feel hungry. Bev, Jonathan and Steve did a great job in the kitchen making the sandwiches, although there were some comments about the decision of Julian to buy uncut bread. Julian was quite right though (since I'm the one writing this, I define what is correct and what isn't….) as it looked far more rustic that way.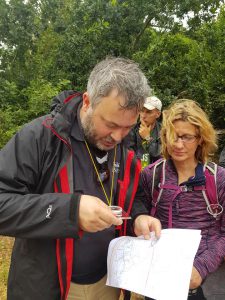 Richard and Sarah during the hands-on training in the afternoon, where some of us used phones and GPS to navigate the walk, whilst some others used paper maps. We encourage walk leaders to use whichever method that they're happy with. We were pleased to see the delight on the faces of a couple of members when they realised just how easy having GPX files on phones really was (I exaggerate slightly, but they were definitely pleased).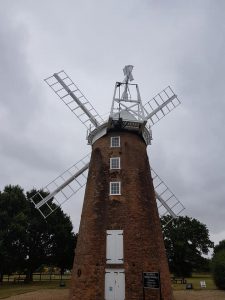 A mill on the walk in Dereham, which Richard taught people to consider as a landmark to assist in finding our location on paper maps.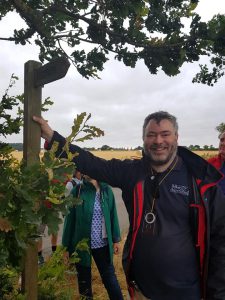 Richard, our area chairman, holding up a sign and looking quite heroic. Also, thanks to our area treasurer, Peter James, for dropping off the Ramblers area marquee in the morning, something which proved essential given the rain we had.
The day was a combined social event and training day, which is designed to encourage individual to lead walks. The Ramblers offer hundreds of led walks across Norfolk every month, and we're really grateful to all of our walk leaders for their hard work. We're delighted to see new people keen to join their ranks and hope they lead many walks in the future.
Thanks to everyone who helped on the day, it's much appreciated and following the feedback we received, we'll do it again next year!