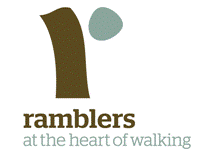 Norfolk Ramblers are taking part this month in a national campaign which focuses on mental well-being. One of the great things about walking is that it's a healthy pursuit and we have some wonderful areas of coastline, woodland and riverbanks to explore in Norfolk.
We also want to people to feel comfortable talking about any mental health issues that they wish to, so we want to get people walking and talking. There should be no stigma to mental health issues and we just want to say that if anyone wants to talk, then they'll find an open ear to listen.
Julian White, the area publicity officer, said:
"One in four of us will experience mental health issues this year and we want our groups to be a place where everyone can feel welcome. Getting out and meeting people is a great way to get healthy and also talking to others helps to alleviate loneliness and mental health issues. We have many members who have joined one of our groups and have found it's a new community of friends for them".
We're running a number of walks as part of this campaign. The main day is Thursday 7 February and Hike Norfolk have a 6 mile walk near North Walsham. There's more information here:
Norwich Group also have two walks. The first is 10.5 miles and starts from Swanton Novers on Sunday 10 February, with information here:
And there's a 10 mile walk from Mannington Hall on Wednesday 13 February, with information here:
There's more information about the national campaign on the Ramblers web-site.