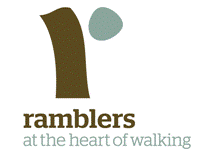 Last year, Dereham Town Council put in claims to have a number of paths in the town registered as Restricted Byways.  The claims were put together by the Town Clerk, with input from Ian Mitchell.  Much of the evidence submitted related to historic usage of the routes, and was collected both by The Ramblers, and through local advertising, including a 'drop in' morning at Dereham Windmill, which lies adjacent to one of the routes claimed.  The issue was also complicated as a planning application was being processed which affected some of the routes, and the Town Council ensured in discussions with the developer that they were aware of, and accommodating, the claims.
The initial response from Norfolk County Council in reviewing the evidence submitted, was to propose making orders for some of the routes to be Restricted Byways, but others only to be Public Footpaths.  In practical terms, the Town Council and The Ramblers both thought this was a nonsense, as it would have resulted on users of the Restricted Byways having to turn back where the only continuation was on a Public Footpath.  Ian sought advice and input from The Ramblers national office, while the Town Clerk conducted his own review of past decisions, as the County view appeared to be based on the validity of evidence regarding cycle usage.
We are pleased to note that the orders now made by the County are for Restricted Byways for all of the claimed routes.
The attached file illustrates the affected routes.