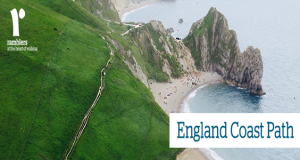 People in Norfolk are one step closer to being able to walk around the entire England coastline as Natural England have announced today (1 September 2017) that work has started on every stretch of the England Coast Path.
The England Coast Path is an inspirational project to create the world's longest continuous coastal trail. In Norfolk there are 4 stretches included in the project:
Sea Palling to Weybourne which has been open since December 2014
Hopton on Sea to Sea Palling was opened last November
Weybourne to Hunstanton is still under consideration, with Natural England expecting to issue its proposals fairly soon
Hunstanton to Sutton Bridge is also still under consideration, with proposals expected late 2017 or early 2018
Ramblers' director of advocacy and engagement, Nicky Philpott said:
"This is a huge milestone in the story of the England Coast Path and one we should celebrate. Building sandcastles on the beach, dipping toes in the sea and taking a stroll along clifftops are favourite activities that cross generations and bring us all together.
So it might surprise you that until recently, a third of England's coastline was inaccessible. The Ramblers has long dreamed of a country where everyone can freely enjoy our beautiful coast, so we were pleased that after years of campaigning, in 2010, work started on the England Coast Path."
At almost 3,000 miles long, the path will stretch around the entire English coastline. Not only will this open up new paths, it will create new areas of open access land so people can freely explore headlands, cliffs and beaches, right up to the water's edge.
Natural England has been working with landowners, local authorities and others to open up stretches of the path and Ramblers' volunteers have worked tirelessly to walk and survey swathes of coast, mapping out the best route for walkers.
Nicky added: "We'd like to thank our wonderful volunteers who have spent hours exploring possible routes for the path. Using their local knowledge and thinking with their feet they are helping to ensure that the England Coast Path is not just a path, but one of the most incredible walking trails in the world."
In Norfolk, Ken Hawkins took on liaison between Natural England and The Ramblers during the planning of the route. He said, "Right from the start, The Ramblers put forward proposals for the route, and these always received full consideration from Natural England. Since 2013, we have had a number of productive meetings and a regular exchange of ideas. More than that, after the opening of each section, members of The Ramblers have walked the routes and offered 'fine tuning' suggestions to Norfolk County Council, which took over responsibility for them once open."
The Government hope to complete the England Coast Path by 2020, and the Ramblers is keen to ensure that plans are put in place to maintain the path once it's complete and has become a National Trail.