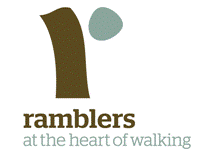 Tony has put together a fascinating history of Wensum Group, which is celebrating its 25th anniversary in 2018!
In 1981 a programme of walks had been started by Norwich City Council Amenities Department with help from the Ramblers Association which provided leaders. Walks were publicised via
local newspapers, in the Tourist Offices and at local libraries. At that time participants did not need to be members of the Ramblers Association but were expected to pay for copies of the walks programmes.
At a Ramblers steering committee meeting on 8 May 1983 it was reported that the Norwich Sports Council had promised £38 towards the cost of forming a 'new club'. This club became
known as the Thursday Ramblers and it was attached to the Norwich Group. An initial programme of walks was submitted to the meeting. The programme commenced on 1 September 1983 and initially walks took place fortnightly. By the end of 1983, weekly walks were taking place and coach trips had been introduced.
Following a proposal made at a Special Meeting in December 1992 it was reported that Ramblers HQ had reluctantly agreed that a group could be formed separate from the Norwich Group though Ramblers HQ was less than happy to have two groups covering the same geographic area. In March 1993 a steering committee determined that the new group should be called the Wensum Group (having voted against an alternative proposal to call it the Broadland
Group). A constitution was drafted and financial arrangements put in hand. The inaugural committee meeting of the Wensum Group took place on 24 June 1993.
The association with Norwich City Council continued via Monday evening walks which took place fortnightly from May to the end of July. These were advertised by Norwich City Council particularly in the libraries. Sunday afternoon walks, one per month, commenced in 1997. This was to meet the needs of ramblers who were unable, for one reason or another, to attend walks on Sunday mornings.
However, the involvement with Norwich City Council came to an end after they wanted to start charging Wensum Group for advertising its walks in their libraries! That was in 1999. For the next 18 years, with Joyce Smith at the helm as Chairperson, the activities of the Wensum Group extended to periodic social evenings and walk-and-ride trips on a Norfolk Wherry, and many members have participated in the Norfolk Area walking holidays and the non-
walking holidays that she organised.
In 2018 Wensum Group will officially have existed for 25 years and will reach its silver jubilee.