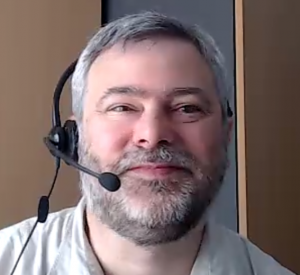 Unfortunately, current events mean that we can't meet together for our usual area council meeting. So, instead, we went on-line and used Zoom to at least be able to hold some sort of meeting. 17 members from the area went on-line and there were only a few technical issues.
I won't use photos of everyone in the Zoom meeting as some people (well, primarily, me, Julian) need a hair-cut (that's happening this week, woooo), but above is Richard May, confidently chairing the meeting.
We hope that we can return to normal in future meetings, but perhaps we can look at having an on-line element to them to allow for more people to engage with them.
It was great to hear today from groups that were embracing social media and WhatsApp, using this as a tool to attract new members. Lockdown has made more people think about exercise, and we're ready to help people get walking and make new friends.
There was also discussion about things such as risk assessments, the less exciting side of these meetings perhaps, but important to show that we're taking the safety of walkers and communities seriously.
We're sending out a programme to members, to help them feel informed of what's going on. We can't list walks in this one, but we'll be publishing a printed programme again as soon as walking is more back to normal.