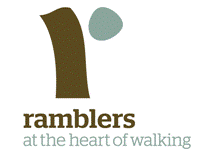 We at Norfolk Ramblers have been approached by Rosemary Martin, who lives near Merton, adjacent to the Peddars Way. This way is 46 miles long and follows the route of an ancient trackway that was in part used by the Romans.
She writes as follows.
"Breckland District Council recently granted permission for 3 large houses to be built directly on the Peddars Way, in a rural area, much used by walkers and horse riders. The site is adjacent to an SSSI and SPA, and directly opposite a stone curlew nesting area.
"The parish council has been contesting this decision with BDC on behalf of parishioners. It is believed that the decision was taken without all the statutory consultations and other legal obligations being made, and based on flawed/incorrect environmental and other data. I understand that the Ramblers and Peddars Way associations were not informed of this application. The complaint has now reached the Local Government Ombudsman.
"The Ombudsman spoke to me last Friday and informed me that they cannot deal with Parish Councils. I was asked to resubmit the complaint, but include names of individuals who felt they would suffer a grievance from this development. A grievance would be recognized as, eg, a loss or reduction in amenity value or reduced safety due to traffic. (The part of the Peddars Way where this development would take place is strictly a footpath and bridleway and the development includes nine garages and parking spaces.) I am compiling a list of people who would like their names added to the complaint. This includes parishioners, and all those who use the footpath.
"If anyone from your association felt they had a grievance and wished to add their names to the complaint, I would ask them to supply their name and address to me via cuckoolodge.merton@gmail.com or by phone 01953 880476 or 07563 505020 (after 21 August). (It might also be useful to know what use they make of the footpath eg walking, dog walking, walking with children, horse riding, running.)
"This is not a petition, so no signatures are required. It is possible that the Ombudsman might at some stage contact some of the people on the list to check that their names had not been added without their permission."
The Ramblers weren't informed about this planning application in advance. For those who want to check the application, it is 3PL/2015/0657/F and can be found at: