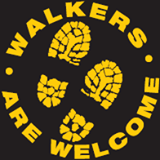 A member of Norfolk Ramblers has been instrumental in helping Dereham become the fourth Norfolk town to gain the coveted "Walkers are Welcome" status. This is an award from the national body which is given to locations which are attractive destinations for walkers with high quality information about the local walks.
The planning for the application started when Ken Hawkins, the area secretary for Norfolk Ramblers and the footpath warden for Dereham Town Council, was able to lead an application to secure funding from Breckland District Council to produce 3,000 copies of a Dereham Walks pack. There were two guided walks for members of the public arranged to show local residents what was available just a short distance away.
It wasn't just Ken's hard work which has been important in seeing this endorsement as others including Tim Birt, Neil Cliff, Kate Millbank, Dorothy Sneesby, Martin Sneesby, Sue Rothwell and Jean Stratford all played their parts in driving the process forward. They helped to ensure that sufficient public support was demonstrated as 5% of the town needed to get behind the project, which was 900 Dereham residents. Over 950 signatures were achieved thanks to the committee members and other local institutions.
Richard May, the area chairman of Norfolk Ramblers, said:
"This is great news for walkers living in Dereham and another good reason for visitors to come to the town: we're all proud of the work that Ken and others have put in to not only getting this proposal off the ground, but also by engaging with local residents."