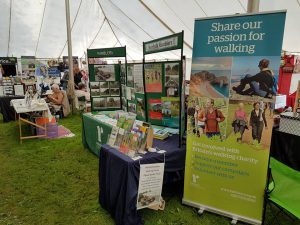 In addition to the Sandringham Show, mentioned in a separate blog post, we also had a stand at the Worstead Festival this week. There was a great attendance and atmosphere at the festival, and we were delighted to welcome hundreds of people to our stand.
We were giving away balloons, pens and badges as usual! But, perhaps more importantly, we wanted to hear questions about the paths network and our work, and we're delighted that so many people wanted to engage about that. We perform our own path clearance now, and we're always keen to hear about footpath problems in Norfolk that we can try to fix.
We also had an offer of buy two books for £5 to help support our path clearance work. We'll be at the Wayland show on 7  August 2016 – and we hope to see lots of people there!
Thanks also to our volunteers who manned the stand over the weekend   🙂